NCI Legacy Series Blog Posts
In memory of those who came before, we bring you some of their best posts and articles from the past. Nita Brooks, who lost her battle with cancer 2016, was an integral part of the National Comfort Institute team for many years and was prolific in her writing. This post is one of those articles.
Think about it… your network of friends, family, customers, peers, team members, professional advisors, and vendors –- everyone with whom you come in contact with in your daily and business life – has a huge impact on your ability to succeed. Investing your time and effort in building a network of genuine personal and professional relationships creates an important asset that will support a higher level of success.
Doesn't it make sense to learn to network successfully?
Networking is nothing more than building relationships.  It is about connecting with people, listening to what they have to say, responding to it and learning from it.  Networking is sharing knowledge, gathering information and building relationships that can help you in business performance and provide a lifeline of support.
Isn't that what contractors do with their customers?  They share knowledge about the customer's system, gather information on the customer's unique needs, build the customer base through maintenance agreements and provide a lifeline of support for their customers.
Networking with more customers means adding more net worth to the bottom line.
Are you starting to see how it works?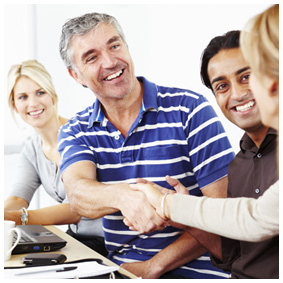 What, you don't think your friends and family have anything to do with your net worth?  Really?  Aren't your friends and family your support group?  Don't you look to them for encouragement and ideas when you encounter a particularly stubborn problem?  Without that support network, it is much more difficult to be successful.
What about your network of peers and team members?
The wisdom of the crowd is always more powerful than one individual.  Collaborating with peers and co-workers helps to stimulate ideas that will strengthen the entire team.  Working with others who share similar interests, passions and values builds a strong foundation that will support your personal and business growth and success.
Building a network of professional advisors can be a life saver!
Building relationships with professional advisors whom you value and can trust is critical to protecting your assets.  Bankers, accountants, financial, and legal advisors are not usually people with whom you have daily contact.  But, when you need their advice is not the time to seek them out.  Build and nurture these relationships carefully, well in advance of when you need their counsel to protect your assets.
Don't forget about the vendors and distributors in your network.
They provide a valuable ally when looking for solutions and investigating new products.  Negotiating better prices and payment terms will immediately increase your net worth.  Consider partnering with vendors to pre-kit installation packages that will increase your efficiency and reduce warehousing expenses.  Remember that many product suppliers and distributors also provide training that will help you grow your team's skills and business knowledge.  Take advantage of those opportunities.
Don't overlook the power of referrals, which may be your strongest networking resource.
Your network of customers who rave about you to others builds your customer network without ever having to do anything beyond providing outstanding services.  When combining that power using social media and a good referral program, you are effectively building a network of future business.
Referrals will also build your team and the culture of your company.  What your employees tell others about your company and what it is like to work there generates a pool of resources to draw from when looking for future employees.  Be sure to share open opportunities with the team and discuss the qualities the team looks for in their teammates.
Spend time giving back to the community.  Your community involvement will build your personal network, create "top of mind" awareness for future business and, guess what, that leads to an increase in your net worth!
Here are some tips on how to network successfully:
Do say "Yes" to opportunities, groups and gatherings that will build your network (Trade Shows, Conferences, Community Organizations, Toastmasters, etc.)
Practice a comfortable way to introduce yourself
Talk about yourself, your passions, and your business
Don't try to be something that you are not; be sincere
Carry LOTS of business cards to give out
Ask for business cards or contact information from others, then make notes that will jog your memory about the person (using the back of business cards works well)
Listen more than you talk
Don't get distracted when in one-on-one conversations
Be prepared with at least three questions on which you would value someone's opinion
Practice networking skills with family members and friends
Use technology to network through social media, emails and your website
Make meaningful connections
Use newsletters to keep in contact with your entire network, not just your customer base
Build your network connections and build your net worth!